A letter to my homeroom students:
Before I begin, I want to personally thank
Annie Fox
who permitted me to quote and cite her blog entry.
My amused homeroom students,
Two days and counting... it's hard to believe! I am sure that many of you are prepping for school - be it buying supplies, finishing up summer homework, and taking the last precious moments of summer to enjoy, relax, and refresh.
Many of you have been here since Kindergarten whereas some of you are brand new to KSA. But, this year, you all are new... in the sense of being in a homeroom together. As my previous email to you mentioned, we are a community and our homeroom represents it - in that, you are not just 7th graders or 8th graders, you are a member of Halutzim.
With that said, I want to share with you some thoughts on what it is like to be a new student at a school. I connected with another educator,
Annie Fox,
who wrote a fantastic piece about being a new student along with some suggestions on how to make the transition easier. She has graciously allowed me to share her blog entry. Below her wise words are my additions to the suggestions. Please take a moment (or two) to read through it for I bet at one point in your life (be it now, or before), you were "the new kid"... and as I wrote above, we are all new this year.
August 14, 2013
For many girls and guys the start of this school year means starting over in a new community. That may include leaving behind good friends and a town you loved. Even if you didn't love everything about your old school, you may not have wanted to move. In the middle of dealing with those emotions, you now have to get used to living in a new place. Once you locate the new school (Thank you, GPS!) you've got to get used to new teachers and a new schedule without getting totally lost on your way to class. On top of all this is the major challenge of figuring out where you fit in with hundreds of kids you don't know.
If you are the New Kid in school, this blog is for you. (It's part of my upcoming
Girls' Friendship Q&A Book
, illustrated by the infinitely talented
Erica DeChavez
) If you're not the New Kid, read on anyway. Then, hopefully you'll be on the look-out for anyone at school (new or old) who needs a friend.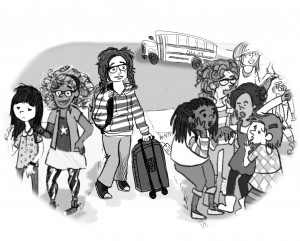 Yikes! I don't know anybody here.
Q: My family just moved to a new state. I had to leave all of my friends. Now I'm at a new school. How do I make new friends?
A: Welcome to your new school! You're probably excited and a little sad because you left some friends behind when you moved. Being in a new school without friends is like watching a movie without popcorn. Making new friends will help you feel more at home in your new home. But how do you make friends? Here are some tips:
1. Be friendly. That means act like someone who wants friends. Smile. Say, "Hi, I'm ____. What's your name?" That lets kids know what a nice girl you are.
2. Be a good listener. Ask kids what your new school is like and listen to what they say. When people ask you questions, don't brag ("I was the most popular girl at my old school.") or make stuff up ("My old school had flying unicorns the students could ride on.")
3. Ask to be included. This takes courage, so you may need some slow deep breaths before you say, "Hi. Can I play?"
4. Find a buddy. Be on the lookout for at least one girl who seems like she could become a good friend for you. Then follow the directions for #1.
Good luck and have a great school year!
In friendship,
Annie
- See more at: http://blog.anniefox.com/2013/08/14/what-if-youre-the-new-kid-at-school/#sthash.6pTrj2dc.dpuf
Here are my additions to Annie Fox's great list!
5. Join in activities and clubs - it's a great way to meet kids with similar interests in a smaller setting.
6. Connect with adults in the building - not just the teachers but also the secretaries, custodians, lunch service people - most have been around for a while and know the ins and outs of the school's culture. It's also worthwhile to make the connection with your guidance counselor.
7. Don't hold your feelings in - it's ok and normal to feel anxious, hesitant, and sad (especially if you switched schools or moved to a new town). Talk to your parents, guidance counselor, teachers, support staff (see #6) older relatives and friends. At one point, they were all in your shoes, which leads to the next one:
8. You are not alone - you are not the only new student in the building (most likely). Keep reminding yourself that. And in no time, you won't be the "new kid" anymore...
9. After a year, and you see a "new kid" remember what it was like for you and put yourself in his/her shoes. Reach out to that person just as you wanted people to reach out and welcome you. Some of the best friendships are made that way.
I hope these tools will be helpful to you. Can't wait to see you all!
Fondly,
Mr. M.